See a selection of Soloweys

This comprehensive overview of Ben Solowey's art focuses on his paintings and also includes a selection of his work in other mediums. Its aim is to reveal the extent and depth of Ben's achievement and to clarify his identity as an artist of the 20th century. Recent exhibitions have examined particular aspects of his work - his drawings or sculpture for example, or his years in New York - but it has been over ten years since the last major retrospective, held outside of Philadelphia in 1984. Now, utilizing the Studio of Ben Solowey's archives and collection, and modern technology, we have an extraordinary opportunity to see Ben's best known works as well as those less familiar or rarely exhibited.

Ben Solowey was a fourteen year old boy when he came to United States from Poland via St. Petersburg. On receiving his first ice cream cone in America, he held it out to draw it before eating it. He was the type who could not stop himself from drawing and eventually painting. Painting, he said, was a "way to relax" and reflected the surroundings of the artist. Over the next six decades, until his death in 1978, Ben sought to render the beauty of his world through his artwork.
Ben felt either one did or did not paint, whether it was good or bad. Despite family disapproval, Ben painted and drew from his earliest days. Although his paintings radiate a calm and luxurious world that soothes and pleases a viewer, his art was rooted in his direct observation of the world around him, which he transformed to express his inner vision. To describe his environment, Ben developed and continually replayed a group of particular subjects, such as domestic interiors, often with female figures; or nudes in landscapes; portraits of his wife Rae; or models posed in the artist's studio. Sometimes he would include images of his own earlier works, recreated whole or in fragments within later paintings.
Ben's work is more complex than it at first appears, encompassing a range of contradictory tendencies. Although his pictures often look as if created spontaneously and with ease, he acknowledged that he had to work hard to hide his labor; sequences of studies precede the final versions of many of his greatest paintings. While he draws upon visible realities, he takes great liberties, coloring the same room an earthy brown in one painting, for example, and a cool green or a warm pink in another. With great care he delineates a tree or a piece of furniture, but then manipulates perspective to show that same object in a setting it never was in. Occasionally he simplifies and reduces some images to the point of abstraction, and yet they remain representational, showing vestiges of recognizable forms. The delicate balancing of these conflicting tendencies produces a pleasurable tension that gives Ben's art its distinctive beauty.

At the Pennsylvania Academy of the Fine Arts in Philadelphia, Ben embarked on the traditional program of drawing from plaster casts and nude models. His teachers included Hugh Breckenridge and Daniel Garber. Ben also was greatly effected by the approach of both Thomas Eakins and Robert Henri, both former Academy teachers who ideas still loomed large in the Academy's studios. Ben absorbed the the school's conservative atmosphere and techniques - particularly the school's emphasis on the human figure and the heritage of the past - interpolating these elements into his own evolving style. He had an early affinity for charcoal and his Self Portraits from this period show him exploring the nuances of the medium. His portrait of the an Academy cleaning woman won the Ramborger Prize in 1921 and was reproduced in the school's catalogue the following year.
Upon completing his studies at the Academy, Ben sailed for Europe in 1924, working his way across the Atlantic as steward on the S.S. Leviathan. He spent the next eight months primarily in Paris. There he replaced the dark tones of his earliest paintings with brighter colors that reflected his awareness of Impressionism. In and around Paris, he sketched in oils a variety of landscapes, both urban and rural such as Along the Seine of 1924. He captured scenes so quickly and insightfully that these works remain fresh even 75 years later. He experimented with the spectrum of Impressionism and Post-Impressionism, from Monet and Seraut, mastering styles and techniques he would soon call his own.
Simultaneously he practiced the time-honored tradition of copying paintings at the Louvre. This was not a vain attempt to re-create works of the masters, but rather a practical exercise in learning the construction and palette of these works, which he would later use to support himself as a decorative painter when he returned to Philadelphia in 1925. He supplied canvases in this older style to interior decorators and designers.
In these same years, Ben looked to the advanced artists of the immediately preceding generation to find new ways of picturing the world. He experimented with the optical effects of Arthur B. Carles in works like Imaginative Flowers of 1925, and toyed with perspective in his Standing Self Portrait of 1928.
There is no record of why Ben decided to go to New York in late 1928, yet it is easy to understand why he made the two hour journey up the eastern seaboard. While Philadelphia reveled in the past, New York was exploding with present day innovations. Ben's work, always representational, was quickly accepted by the city's
Self Portrait In New York Studio
Lithograph crayon on paper,
21 x 16, c. 1932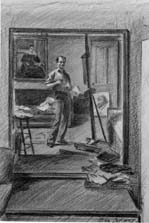 art world as an excellent example of fine painting and he soon found himself exhibiting along side painters he admired such as Matisse and Picasso in institutions and galleries around town. Ben's paintings from this period reflect the light of the city, except those he painted in more pastoral locations such as The White Mountains of New Hampshire of 1931, in which he creates a Cezanne-like effect on the landscape. In the 14 years Ben lived in New York City, he never painted a cityscape, although these images were practically de rigueur for artists. He obviously enjoyed the energy of the arts in the city, yet he did let it alter his own self direction.

From 1929 to 1942, Ben led a dual life as a celebrated easel painter, while being one of the court artists of Broadway. Editors at the New York Times and Herald Tribune commisioned Ben to join the ranks of artists who supplied their drama pages with regular drawings of actors and actress from Broadway and Hollywood. Ben's portraits immediately transformed this work and defined an era in his striking charcoal portraits of the luminaries of the performing arts, such as Ethel Barrymore, Noel Coward and George Kaufman. Unlike many artists in the field who simply re-drew photographs, Ben insisted on working from life, often visiting the theater during a rehearsal to delineate the performer either right on stage (frequently under a bare light bulb), or in an actor's dressing room. Because of performers' hectic schedules, Ben sometimes had only minutes to capture the essence of his subject and the character they were portraying. Later performers took the opportunity to visit the Solowey studio on 5th Avenue in Greenwich Village where the Ben could work undistracted. He was a pioneer in the use of halftone in newspaper reproduction, and spawned a generation that emulated his style. He chose charcoal because of its quick response to his hand, and preferred strong light to make an indelible mark on the page and reduce the possibility of error in reproduction. To be drawn by Ben was a sign that a performer had "arrived," and his portraits were eagerly awaited each week by both performers and newspaper readers.

In April of 1930 Ben had just completed Carnations and Lilies when his studio buzzer sounded. Into Ben's studio walked a fellow painter and his date, a young woman also from Pennsylvania, Rae Landis. The couple was not there very long before Ben asked Rae out for dinner and the two met two nights later. Ben immediately proposed, remarking that he would have asked the first time they met, but that he did not think it was appropriate since she came with another man. Rae, a beautiful and intelligent woman who had already received several proposals, soon agreed and they married within the next two months.

Rae Landis Solowey
Photograph by Ben Solowey, c. 1930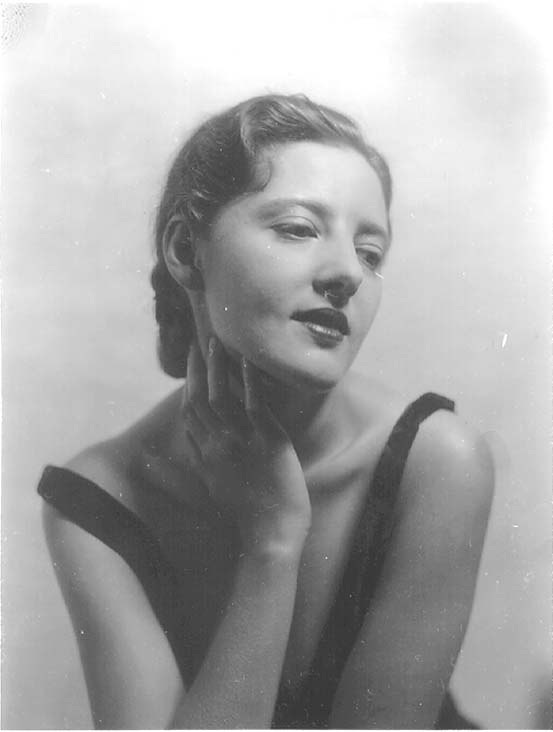 Rae became Ben's primary model, despite the fact she had no previous experience. In the words of another artist, she came to represent "woman-eternal" in Ben's work. Her natural beauty gave something to Ben's work that he could have not found in a hired model. Like Cezanne who painted his wife innumerable times, Ben found in Rae an ever-changing face of beauty, whose seeming etherealness transported a viewer well beyond the confines of the picture frame.
Ben's first works of Rae have a somewhat stilted quality as painter and model become acquainted with each. Soon they found an easy understanding that allowed Ben to paint rich, insightful portraits of Rae as well fill his sketchbooks with more casual drawings such as Reading of 1935.
Like friends and neighbors Diego Rivera, Freida Kahlo, and Arshille Gorky, the Soloweys left the city in the summer to escape its heat. Their first trips were north to New England, but in 1936 they decided to head south to Bucks County, Pennsylvania, an area renowned for its cool grey light. After looking at many places, they finally found a secluded 34 acre farm with a dilapidated colonial farmhouse and barn. They bought in on the spot and set about restoring it. Here Ben could find time and space to indulge in his varied interests from photography to cabinet making. Lacking the funds to hire an army of workers, and as a way to relax, Ben did almost all the restoration work himself allowing him to become a Renaissance man. In 1942 they moved permanently to the farm, although for the first seven years they would be without running water or electricity. While Ben had to spend three years away from the easel just to make the farm livable, he soon found it rewarded him with an inexhaustible supply of material for still lifes such as the Pink Tablecloth of 1948 and Harvest of 1949 and landscapes like The Great Willow of 1940, as well as interiors and exteriors for his figure work. He painted stunning figure works such as Amber Bracelet of 1949. Instead of letting one of the studio's windows provide a background landscape he included a recent landscape of his own as a window to his world outside, in addition to making the blouse that Rae wears in the painting.
Considered by many to be the John Singer Sargent of his day, Ben could have done nothing more than to paint portraits. But he turned down as many commissions as he accepted and refused to make the social rounds require for a society painter. His interest lay in the world he surrounded himself with. Besides excursions to New York, Philadelphia, Washington, Ben stayed primarily at the farm. Much like the farmers that surrounded him, he allowed the weather to dictate his day, working in the studio when the weather was inhospitable, and outdoors when the weather was inviting.
Paintings flowed from the studio to exhibitions around the country. He found Rae to be even more delightful to paint and produced a diverse group of portraits. Pink Turban of 1950 he painted on canvas he made himself. In Picture Hatof 1954 he captures the mature beauty of his wife of 24 years in a portrait that seems to celebrate aging. In 1955 he embarked on Figure Composition, a painting that would become a favorite of the Soloweys, critics and collectors. Ben drew a full size charcoal study before starting his oil. After at least five different sittings, he photographed the work in progress, capturing the evolution of one of his masterpieces. The work was reproduced widely and though many wished to purchase the work, Ben, and after he died, Rae could never let the work leave the studio.
Ben added sculpture to his painting and drawing in the early 1940s, and he pursued it in earnest in the last three decades of his life. His Self Portrait at the Modeling Stand of 1955 shows him at work on a figure that would eventually become Crouching Figure of 1964. In this casein painting, Ben produces not only a life like self portrait but includes the figure of Rae behind him. As if to make it a complete resume, he includes both a still life on the wall of the studio and a landscape on the floor, giving the viewer examples of all the genres he excelled in. The simple wood floor of the studio becomes a shimmering pool of color as does the wall in the upper left quadrant of the painting, giving the work an unusal warmth.
Although Ben suffered a major heart attack in 1966, he continued to paint and draw with the same prodigiousness that marked his entire career. Having glimpsed his own mortality he was determined to make each day count. While he never stopped working on his home and studio, there was an air of contentment that many had not seen before. He mellowed and found himself enjoying the company of others more. His work, particularly his still lifes like Fruit in Milk Glass of 1976 and his winter landscapes such as Our Lane of 1972 show an insightful summation of the elements his world. Although these works at first seem introspective, they still convey his observations of beauty in all its forms. In his final years, his dreams provided him with subjects he had only touched on previously, figures from mythology and his own fantasy such as Dancers of 1973. With these masterly final compositions - and throughout his art - Ben offers us the luxury of contemplating a private paradise, a place of pleasurable ease and harmony that he has fashioned from the ordinary world.

Read the Solowey Letter for the latest Solowey news


© 2000-2022 The Ben Solowey Collection. All Rights Reserved.