Every issue we will feature one of Ben Solowey's remarkable Theater Portraits. We inaugurate this page with a story on his first portrait from life, Ethel Barrymore in "The Love Duel." Published in the New York Times, April 7, 1929.
A STAR IS BORN
Solowey Changes The Face Of American Theater
From 1929 to 1942, Ben led a dual life as a celebrated easel painter while being one of the court artists of the Broadway kingdom. There was so much going on, so many opportunities to be had, that it was not uncommon for the truly gifted to be known in more than one arena.
Photographer Edward Steichen was k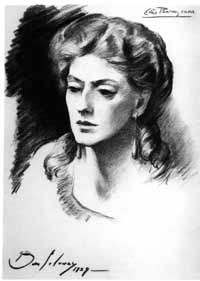 nown as much as his advertising and magazine work, as for his work in museums and galleries. Rockwell Kent supported his far-flung journeys to paint with a steady stream of commercial drawings and book illustrations. George Kaufman moonlighted as the editor of the New York Times Drama section, while establishing himself as one of the period's great comedic playwrights.
Commissioned by the New York Times and the Herald Tribune, Ben defined an era in his striking charcoal portraits of the luminaries of the performing arts. His drawings, featured on the front page of the Sunday drama sections, were recognized by both performers and newspaper readers as a sign that one had "arrived".
Ben was a link to the newspaper tradition along with artists as Alexander Calder, George Bellows and Boardman Robinson, all who supported their early careers with newspaper illustration. In a 1939 interview, Ben Solowey said "every man has to eat, hence a paycheck cannot be ignored."
Unlike many of his contemporaries, Ben was no hack simply redrawing photographs, the common practice of the day. He tried. For the first three months of 1929, Ben produced lackluster drawings that accurately convey the artificiality of a posed photo. When he received an assignment from the Times to draw Ethel Barrymore, then appearing in The Love Duel, he knew he had to work from life.
In this day of video fame, if a performer's films are not at Blockbuster Video, than the performer virtually does not exist. Such is the case of Ethel Barrymore. She was the biggest star of her day, playing in a theater that bore her name, yet she made few films. Consequently she is remembered by few today.
Ethel Barrymore (1879 — 1959) was a member of an acting dynasty that began in Philadelphia with Mrs. John Drew, a celebrated actress of the mid-19th century who ruled the Arch Street Theatre, establishing it as the finest company, offering the best productions, outside of new York City. Ethel, and her brothers John and Lionel Barrymore, got their start in their grandmother's company before migrating to New York.
While her brothers eventually decamped to Hollywood, Ethel Barrymore came to represent the
Ethel Barrymore, c. 1929.
From the Studio of Ben Solowey Archives

theatrical tradition of her family, and of the nation. She made her debut in 1894, but her greatest triumph was in Somerset Maugham's The Constant Wife in 1926, only three years before Ben wasassigned to draw her for the Times.

In a 1966 radio interview, Ben recalled the sitting 37 years earlier.

"I went to her dressing room and she said that usually she had very little time, but she was gracious enough to give me anappointment.

"I went to her home, it was the old Colt mansion in the '40s [midtown Manhattan], and she had a marvelous skylight studio up on the fourth floor. So I went up and started to wait. My appointment was for ten-thirty and I waited till twelve. And I was getting more nervous by the second! After all she was a great lady of the theatre.

"At last she came down—she was in bed asleep—she came down and tried to sit for me. She tried to hold a pose but she was smoking incessantly. She must have smoked a half-pack of cigarettes during the period.

"She gave me an hour and ten minutes. And that's about as much as she's given to any artist. But I did the drawing and it turned out well."

Barrymore was so enchanted with the portrait that she autographed the work in the upper right hand corner. The drawing appeared in The New York Times on April 7, 1929, and Ben's second career was launched. He would go on to draw nearly 900 portraits over the next 13 years, almost all from life.

There is another little-known Solowey portrait of Barrymore in this role that appeared in the Herald Tribune eight days later. He drew his portraits on the spot, never making any preliminary sketches to refer to, and the second portrait is almost certainly drawn from a photograph. Ben also drew Barrymore twice in blackface in the Gullah Island drama, Scarlet Sister Mary, and finally as Lady Teasdale in School for Scandal in 1931.

As movies and radio took hold of the American imagination, Barrymore, who only felt at home on the stage, lost her luster, just as Ben's star was beginning to shine. He was a pioneer in the use of halftone in newspaper reproduction, and spawned a generation that emulated his style. Ben's drawings, because they were drawn from life, provide a window into those halcyon days of the American Theater that cannot be found in any other visual documentation of the period.

Barrymore's last great stage success was as Miss Moffat in The Corn is Green in 1940, which Ben was assigned to draw. As if to symbolize the transition from star-based productions that had been popular in the 20s and 30s, to the playwright driven works of the 40, 50s, and 60s, Ben's assignment was for a portrait of the show's playwright, Emlyn Williams, not the show's star.

As Barrymore herself was famous for saying at the end of her curtain calls, "that's all there is, there isn't any more!"

Each issue we will feature one of Ben's "Theater Portraits." If there are any portraits you would like to know more about, let us know. A comprehensive list of Ben's theater work is at http://www.solowey.com/Portraits/TheaterList.html