"
When you visit the studio of Ben Solowey, you do more than see an exhibition, you enter an artist's world....The charm of [the Studio] is its sense of intimacy and immediacy. Nothing is under glass or roped; rather, it conveys the uncanny feeling that Solowey has just stepped away from his easel and will be back any minute....you couldn't imagine wanting to be anywhere else."
- Edward J. Sozanski,
Philadelphia Inquirer Art Critic

At the height of his substantial acclaim for both his
paintings and his theatre work, Ben left the comforts of Fifth Avenue for the countryside of Bucks County, an area renowned for its natural beauty and cool grey light.
After looking at many places in April 1936, Ben finally found a secluded 34 acre farm with a dilapidated colonial farmhouse and barn. They bought in on the spot and soon set about restoring it. Here Ben would find time and space to indulge in his varied interests and work without distraction.
In 1942 Ben and Rae moved permanently to Bucks County. On the farm, Ben would create some of his greatest work, even though the first seven years would be without electricity and running water on the property.
He restored the farmhouse (c. 1765), furnishing it with his own recreations of classic furniture he admired in museums. He re-built the property's summer kitchen as a guest house, re-naming it the Little House.
He transformed the barn into a spacious studio, which stands today filled with his artwork, a testament of his phenomenal talent. A true Renaissance Man, he produced award-winning, canvases and sculptures while handling everything from cabinetmaking to plumbing, from masonry to gardening .
After Ben's death, his wife Rae insisted that his studio remain intact for the public to enjoy.
The Studio's mission is to preserve one of the jewels in the crown of Buck's County's artistic legacy: the work and workplace of Ben Solowey.
The Studio of Ben Solowey is a family-run organization whose purpose is to preserve and promote the works of Ben Solowey (1900-1978). We mount at least two main interpretive exhibitions of Ben's work, drawing pieces from our collections as well as private and public collections around the country and the world. We also occasionally sponsor relevant activities of visual and performing arts both here at the Studio and at other locations.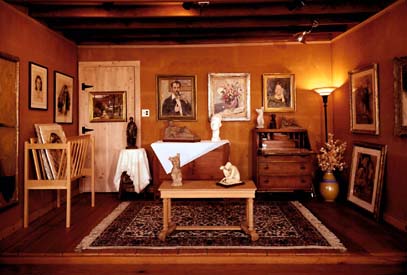 Maintenance of and activities at the Studio are funded primarily through admission fees and the sale of artwork. We welcome any inquiries regarding the purchase of artwork or information regarding borrowing work for exhibitions. For more information on exhibitions and special events, or directions to The Studio of Ben Solowey, please call (215) 795-0228 or e-mail us.

Learn more about past and present exhibitions at the Studio of Ben Solowey

Links to other sites where one can learn more about Ben Solowey and see his work

Studio of Ben Solowey Home Page
© 2002 The Ben Solowey Collection. All Rights Reserved.