Ben Solowey & William A Smith
Works on Paper
It had always been a wish of ours to show the works of Ben's contemporaries. While Ben was part of no school or even general movement of painters, nonetheless he enjoyed the company of painters, sculptors, writers, and performers.
The visual artists that were his friends were of an unusual caliber, and popular with critics, collectors and crowds. George Papashvilly, Arthur Meltzer, Paulette von Roekens, William A. Smith, Charles Rudy, Charles Hargens, Joe Greenberg, Paul Bransom, and Henry Pitz were among the regional artists with whom Ben shared a kinship in one way or another. Unfortunately, without a regular venue like the Studio, the work of these artists is not seen as often as it should be.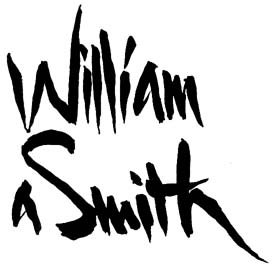 We were therefore delighted when the James A. Michener Art Museum in Doylestown, Pennsylvania announced it was going to host a retrospective of the work of William A. Smith, a friend of Ben and Rae's for many years, and a fine artist with an international reputation.
On the face of it, the worlds of Ben and Bill could not have been more different. Bill Smith found subjects for his work in China, Turkey, and Calcutta. Ben, on the other hand, found his material much closer to home. Still lifes and landscapes were often those seen out Ben's studio door, and, of course, his most frequent subject for figure compositions and portraits was Rae. Yet Ben and Bill shared an ethic of complete immersion in their work, and their devotion can be seen in their art.
The opportunity to see side-by-side the consummate draughtsmanship in Ben and Bill's work could be seen in an intimate exhibition of works on paper held at the Studio June 9through August 11, 1996. .
Read a review of this exhibition