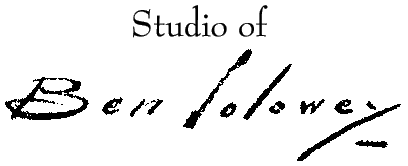 Previous Issues of the Solowey Letter
Solowey Centennial Letter 2000
SIDE BY SIDE: Theater Drawings from the 1930s by Al Hirschfeld and Ben Solowey
More than 100 times Al Hirschfeld's and Ben Solowey's work appeared side by side in the Sunday editions of The New York Times and Herald Tribune between 1929 – 1942. Side by side is also the way you will see works by both artists in this extraordinary exhibition to honor the Hirschfeld Centennial. Drawings of the same performers and productions; drawings that appeared on the same day. It is an unique opportunity to see pieces by the top court artists of the Broadway kingdom.
Al Hirschfeld
Read a short biography of the artist who brought a new set of visual conventions to the task of performance portraiture when he made his debut in 1926.

The Hirschfeld Centennial
There are events and exhibitions being presented allover the world in honor the 100th anniversary of Hirschfeld's birth. Look to see how many you can attend.
Solowey Theater Portraits: 1929
We continue to digitize allof Ben's Theater Portraits. find out more about his first year, which perhaps have the greatest variety of portraits from his 13 year career.
Black and White Letter 2005
Rae Solowey Centennial Letter 2006
Woman Eternal: A Rae Solowey Centennial
Join us as we celebrate one of the best known women in Bucks County art
Rae Comes to New York
Read Rae's account of how she came to New York
Ben Solowey's Show Business Spring 2006
Learn how this actress provided crucial support to the Philadelphia Eagles
Irving Berlin
Find out the latest news about IRVING BERLIN'S SHOW BUSINESS
Studio of Ben Solowey Home Page

© 2006 The Ben Solowey Collection. All Rights Reserved.